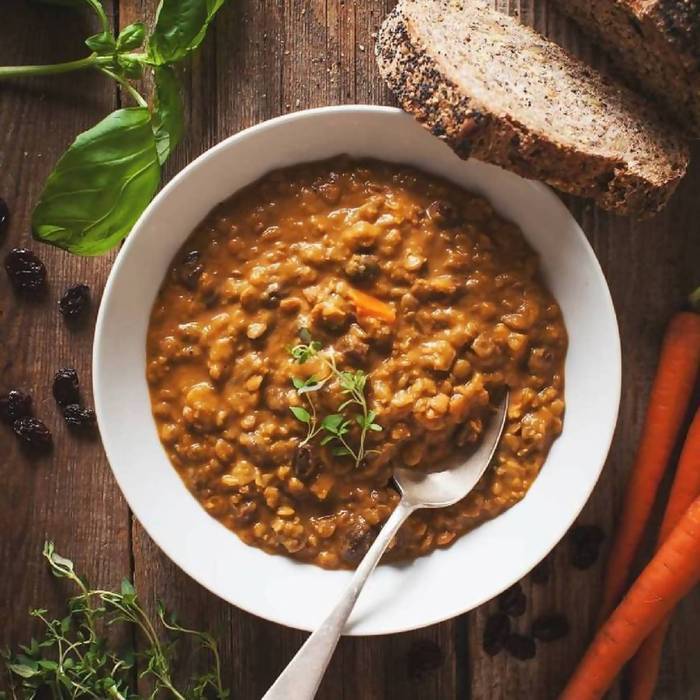 Meet Stephanie Nye: Creator of Farmers' Market Soups
Written by Lauryn Luescher
14 years ago, central coast native and Cal Poly alumni Stephanie Nye did her first farmers market with vegan soup, and ever since she has been in the kitchen cooking up the soups that Harvestly customers know and love.
Stephanie started her first vegan restaurant with little cooking experience but a passion for the community and sourcing local. She sold her vegan restaurant, Shine cafe in Morro Bay, because she felt that while running a business it was almost impossible to source everything locally and focus on the food.
"I wanted to really simplify the business and really be able to utilize the local farmer's products a lot better and have the time to do that," Nye said. "I really wanted to simplify the food aspect of the food business."
Below is a Q&A with Stephanie. Read more to learn about her and her business. 
What got you to start making vegan soup/food?
I myself, I'm not a vegan, I'm vegetarian but I have had periods in my life where I am full vegan. My dad had health problems that kind of forced him into a certain diet. He has since recovered but has kept a lot of those aspects of the way he eats. He's not vegan, but when he was at his worst, that's the way he had to eat. All of my training is in vegan food and it aligned with where he was at that point. I built a following based on vegan food, so I think that people saw me and knew that if that was the way they ate, that they could trust that that's what they were getting from me. So I haven't really branched out from vegan because of that. Also, the more research I do with vegan eating, it seems to be the way we all need to eat for the environment and for our own bodies.
What has your experience been like working with the central coast community?
I mean, amazing. I'm a central coast, local, I went to Cal Poly. This community is a one-of-a-kind community, it's so receptive to young people trying to do something different. The community just surrounds you and supports you, and wants you to grow, and wants you to succeed. My experience with San Luis Obispo County has just been so phenomenal as far as the support aspect.
What is your favorite part about what you do?
I love the customer service aspect of it. I love meeting new people and learning about their food allergies, and knowing how to cater to them. I like to really do a personal touch on everything that I do. More recently, I have just fallen in love all over again with being in the kitchen. Probably because of COVID and having to isolate and not having the anxiety of public service right now, just being in the kitchen and having my headphones on and listening to an audiobook or a podcast and cooking these soups. It's my happy place, it really is.
What makes you and your soups unique?
I have all my own recipes. I don't come from a cooking family. It's not like my grandma's recipes. When I bought the restaurant, I really didn't know how to cook, but I learned really quickly that it was a passion and it was a calling and I was good at it. Watching people eat my food was just the most heartwarming feeling. It is such a gift that someone can give you when they like your food. I think that's what makes it unique, it's all me, it's something that I've created all on my own and been able to make a living at.
What do you want your customers to know about you and your business?
I just want them to know how much I care about what I put into every single food and that I never take for granted how fortunate I am to have my own business, and that every single one of my customers is contributing to my happiness and the way of life that I truly love. I'm so thankful to every single one of them and I want them to come here and tell me their stories and what has brought them to the booth and how I can help them make their experience better in any way I can.
Where do you see yourself and your business in the future?
I'm all about slow growth, you know, it's how I've lived my life, in all aspects of life. Having Harvestly has definitely grown my business more. I've been able to reach out into the community deeper than I've ever been able to with the farmers' market. But I know any growth that will occur will be very small. I just think that there's such a lack of people who are willing to stay small. Everybody thinks that they need to hire a bunch of employees and grow into this huge thing. But I really think that happiness can be found more so when you keep everything simple.
Click here to get Stephanie's soups delivered straight to your door with Harvestly.co.

Harvestly Marketing Director
---
Sign up to get weekly deals, recipes, infographics, and producer features.