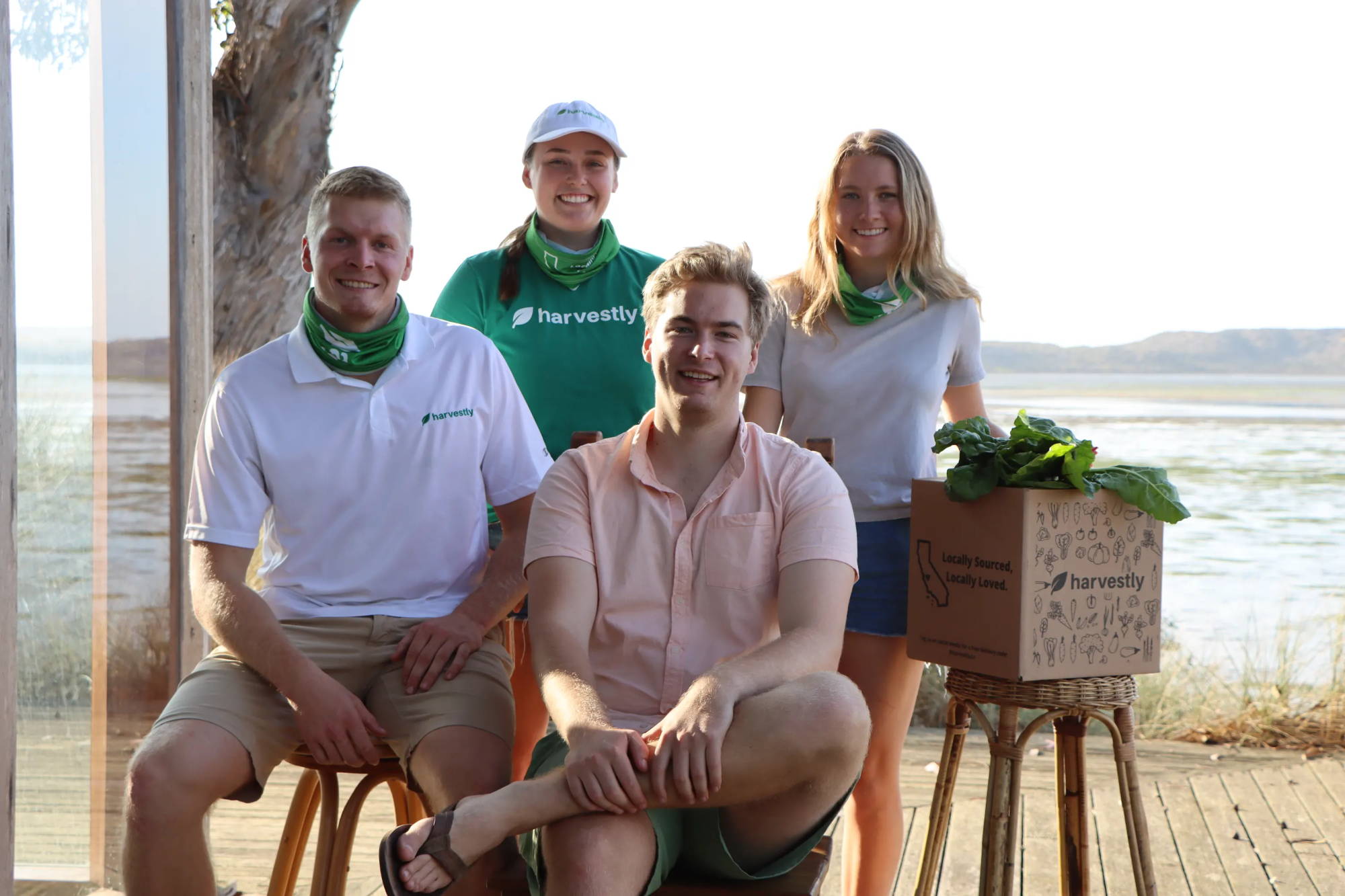 Becoming Harvestly: who we are and what we stand for
The dream we now call Harvestly started with a 14-year-old boy named Walter growing and selling tomatoes in Central Oregon. Walter quickly realized just how problematic the agricultural system is, and decided that one day he would change it. Walter envisioned a system where locally-sourced, organic products could be delivered right to your door while putting money back into the community and being environmentally conscious. Fast forward seven years and 20 team members later and he's changing the ag-world one produce box at a time!
We are Harvestly, a company created by Cal Poly students that puts sustainability and community at the forefront of everything we do. It is our mission to create profit and prosperity for our vendors, supply local communities with the finest natural and organic products SLO has to offer, and together, build a more sustainable tomorrow.
You know the old "started in a garage" saying... well, we weren't kidding. Walter took his big idea and talked to whoever would listen, which led him to his now-business partner and co-founder of Harvestly, Zack Harris. Harris was the president and co-founder of a fintech club at Cal Poly when Walter reached out to him about his idea for Harvestly.
"I realized there was major friction in local agriculture that we could use technology to solve," Harris said.
It wasn't long before the two became close friends and eventually set their dream into motion. From there, the company practically built itself, and with ambitious college students eager to work and local farmers desperate to sell their products, Harvestly took off within a matter of weeks.
Through our 77 different vendors, the number of products we offer grows with each passing day. Customers can choose from a wide variety of goods ranging anywhere from vegan cashew cream cheese to edible flowers, wildflower honey, heirloom tomatoes and more.
Our vendors receive 90% of the product price when customers buy an item from our website, so supporting Harvestly truly is giving back to family-owned farms.
Supporting local farmers is important and incredibly easy. With Harvestly, customers can get nutritious products that are responsibly grown, without the hassle of a grocery store. Our website allows customers to sort through goods by vendor, product type, and other filters, such as keto, sugar-free and vegan. Once items are placed in the shopping cart, simply click the delivery method (to your door or pick up) and we will have it to you within a matter of days. Deliveries are a team effort, so you might see Walt, Zack, Perrie, our operations manager, or any other Harveslty employee. Deliveries are also COVID-safe and can be placed on your doorstep with no contact necessary.
"Since launching last March, Harvestly has seen tremendous growth," Walter Lafky said. "The entire process has been incredibly humbling."
With over 500 orders in just a few months, we are overjoyed at the amount of support we have received from the community, however, Harvestly is not about profit. We believe that purpose is central to success, and that is why we have made it our priority to do our part amid the pandemic.
We delivered 115 free boxes to those in need and donated 1,600 dollars worth of food in just a couple of months. If you or a loved one needs food during this time, check out our outreach page on Facebook and sign up to receive a free essential box. Giving back to the community is our top priority at Harvestly, and we are thankful for the opportunity this platform has provided.
"A big part of the motivation for me comes from the application of this solution to low-income communities who suffer from food instability," Lafky said. "With our storage containers and decentralized network, all of the people in these communities will have the opportunity to acquire a slice of the global economy."
Thanks to Walter's local tomato business, family-owned and -operated farmers alike throughout San Luis Obispo County now have a place to sell their products and do what they love.
In a time full of uncertainty, we thank you all for your support, and more importantly, we thank you for supporting these vendors. We believe in our community, and we will keep working to make it better for you.

Cal Poly Journalism Student
---
Sign up to get weekly deals, recipes, infographics, and producer features.