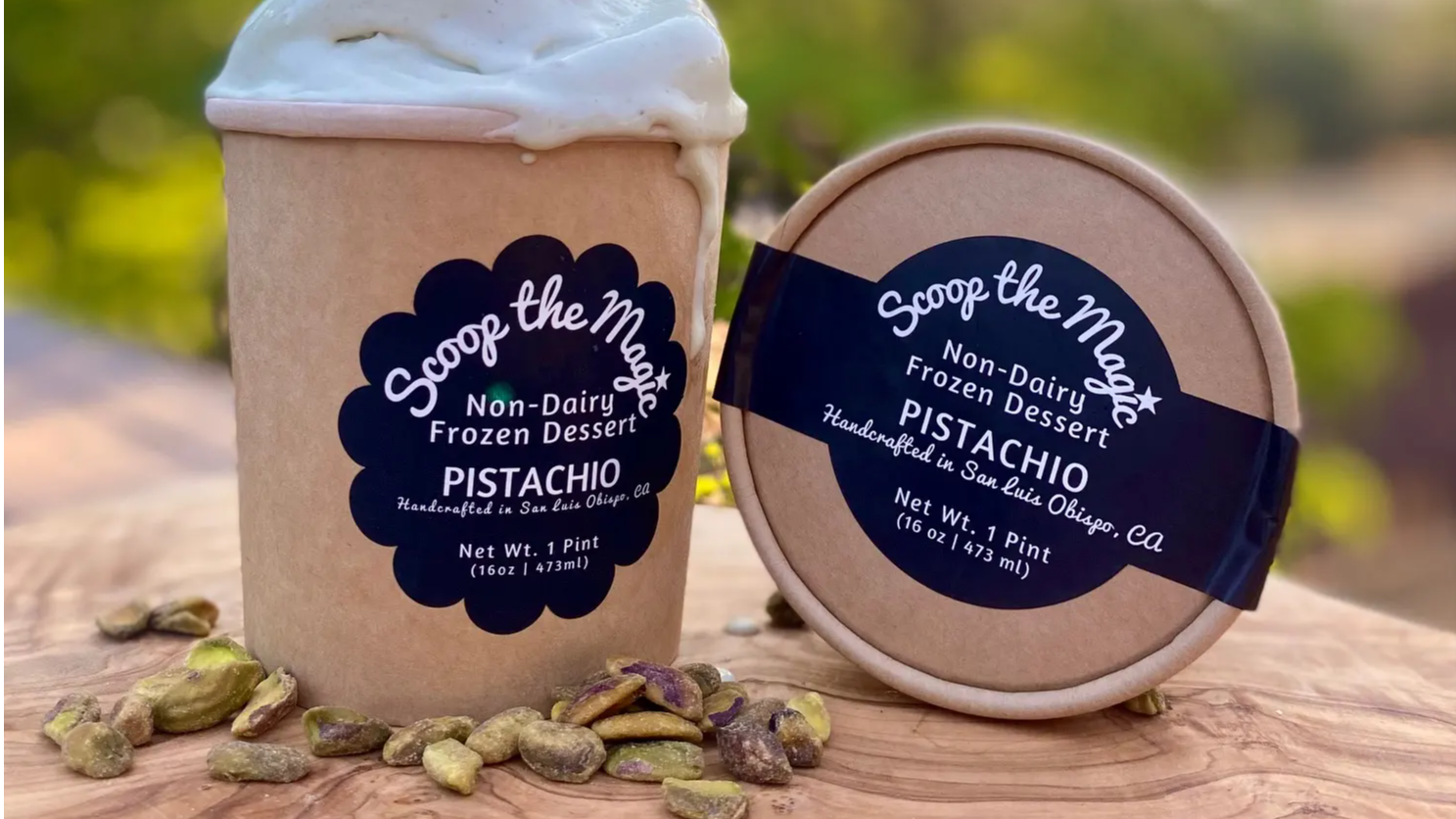 Vendor Spotlight: Meet Uli from Scoop the Magic
Written by Marian Liu
August 9, 2021
Love ice cream, but can't handle the dairy? Check out Scoop the Magic, a SLOcal non-dairy frozen dessert that makes incredible dairy-free, 100% vegan frozen desserts.  
Uli Billington, founder of Scoop the Magic, started the business from her love of creating food for friends and family. When she couldn't find dairy-free ice cream with clean ingredients in the stores, she decided to make her own. Her focus is using local ingredients where possible, organic, wholesome ingredient, no artificial colors or flavors ever.
Check out Uli's incredible story behind Scoop the Magic from our interview.
How did you start your business? What's the background story of how you got to where you are today?  
In Spring 2019, I worked as a consultant at the Women Business Center and my mentor told me about two women wanting to sell their non-dairy ice cream business. For some reason, it sparked something inside of me. It really sounded like a fun product, something that makes people happy— also, something I would never have thought of doing. I met with them a couple times. We talked about how we would take over the business. Then, on May 1st 2019, Scoop the Magic officially started.
I first started by renting a commercial kitchen and going to local farmers markets to put my name out there. People soon started asking about where else they could buy Scoop the Magic.
My first store was the Co-Op in SLO and from this point on, I started working with local grocery stores that are specialized on local, organic products. That's what I love about SLO—how much people support local products here.
How did you learn how to make these different types of ice cream? Especially the dairy-free and more the more unusual ice cream flavors. 
When I took over the business, it included several recipes. In the beginning, it felt overwhelming because I have never done anything like this before. Now, I can probably read every recipe in my sleep. I fine-tuned existing recipes and created my own flavors. The magic is definitely in the ingredients and using a high-end Gelato Maker, which creates the creamy and fluffy texture, just like traditional ice cream!
Transitioning from a business center to operating and creating ice cream by yourself must have been difficult. What was the biggest learning curve for you? 
The most difficult part was learning about the very strict regulations of ice cream manufacturing.
It wasn't until a year into my business when I learned that ice cream, and resembling products like non-dairy frozen dessert, are regulated under the CDFA (California Department of Food and Agriculture). The state department regulates anything from cheese, ice cream, and non-dairy or vegan ice cream. These products have to be manufactured in a so called "dairy plant", yes, even if Scoop the Magic is dairy-free.
A dairy-plant is a facility where you can only manufacture products that fall under the same category, the facility gets inspected quarterly. I guess that's why many call it an "Ice Cream Lab". Every flavor must be registered with the CDFA before bringing it to the market, as well as all following strict guidelines on how to create the product label, which is usually an 8-week process from registration to approval. All of course for the protection of the consumer.
What keeps you going? What motivates and excites you about this business? 
It really comes down to my love of creating food and seeing that big smile on people's faces when they treat themselves with Scoop the Magic. I often hear "Thanks for doing this" and that really keeps me going. Apparently, over 50% of the populations has some sort of lactose intolerance, and they really appreciate a dairy-free alternative that has the same creamy texture and flavor as traditional ice cream.
What would you want your customers to know about you and your business? 
I love being connected to the community and the vendors I work with. I very much enjoy doing deliveries myself and love hearing feedback on the current flavors and ideas for new ones. And the Farmers Markets have always been my happy place. I am trying to find new vendors all over SLO County and the neighbor counties, while also planning to open my own shop, creating jobs and giving back to the community.
What has your experience been like, working in the San Luis Obispo County community? 
It has been amazing. On the first day that I went to the Farmers Market, vendors were coming up to me, buying my product, and really welcoming me into the market community. I've made some amazing friends and learned so much about food and starting a food business here. I really appreciate the many referrals that open many new doors.
Anything else to add about your product, your business or anything? 
I am opening a shop in Downtown Paso Robles, hopefully in late September. This will be a new experience, having an actual storefront. I don't think there is any Vegan Scoop Shop anywhere between LA and San Francisco?! There will be offerings of additional products like ice cream sandwiches, ice cream cakes, and hot drinks - all dairy-free and plant-based, of course.
Click here to get Scoop the Magic Ice Cream delivered straight to your door with Harvestly.co.

---
Sign up to get weekly deals, recipes, infographics, and producer features.